About Us
We are family run private residential Nursing Home. The home was founded in 1958 by the present owners grandparents. We have always been a family run business and the continuity from having three different generations working and running the home together is a major benefit for residents and their families.
We have 35 residents in 15 single, 7 double and 2 multirooms. Some of our rooms are ensuite with views of our gardens and courtyard.
The National Quality Standards for Residential Care Settings for Older People in Ireland is the template we use for the delivery of our service to ensure that the residents and their families enjoy a rewarding and professional experience with all aspects of our care.
Our Aims
Shrewsbury Houses Nursing Home Ltd. will focus on providing an individualised care package to improve the resident's quality of life.
We endeavour to ensure dignity and compassion while accepting and valuing residents in a safe and stimulating environment.
Our Objectives
To offer a flexible structured programme, designed from assessing resident's needs, interests and choices in terms of gender, religion, culture, language and ability.
To provide a holistic and confidential approach to care which insures individuality, dignity, empathy and understanding.
Maintain control over, and continue to make decisions about, the personal aspects of his/her daily life, financial affairs and possessions.
Exercise all of their civil and natural rights and to have access to services and activities which are generally available in the community.
Live in a safe, secure and homelike environment.
Maintain his or her personal independence.
Take responsibility for their own personal affairs and to undertake daily living tasks of which they are capable.
Select and maintain family, social and personal relationships with any other person, both within and outside the nursing home.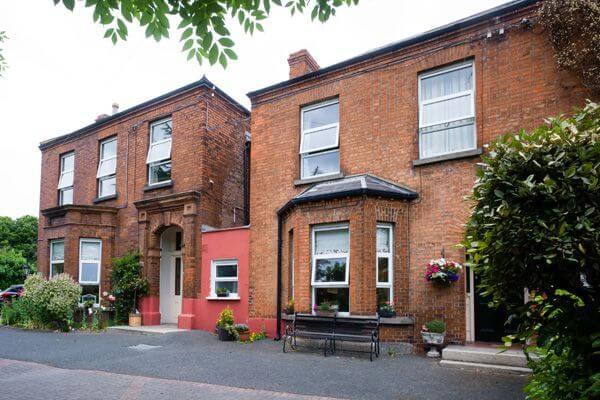 Accommodation
Shrewsbury House can cater for, up to and including, residents with maximum dependency needs. All rooms have electric beds and are wheelchair accessible. Hoists are available for use if required and bathroom facilities are also wheelchair accessible.
We can cater for residents with peg feeds, in dwelling catheters and subcutaneous fluids. Each bed room has been tastefully decorated to a high standard and designed with the safety and comfort of our residents as the main focus. Residents are encouraged to bring their own personal items to make them feel at home.
Each room is fitted with a Nurse Call Bell, wash hand basin, vanity unit and a TV point. WIFI is available throughout the Nursing Home. A chair lift services all floors and wheel chair ramps are accessible through out. Hand rails are fitted on all corridors and bathrooms.
The gardens have a host of wildlife and the close proximity to Clonliffe College into which are residents enjoy daily walks in the fine weather. Its grounds provide us with regular visits of squirrels, rabbits and a wide variety of birds. Our gardens provide a lovely back drop for our parties throughout the year.