Services & Facilitiess
The nursing home is staffed by a highly trained team of Registered Nurses and Health Care Assistants. We provide twenty four hour nursing care with Registered nurses around the clock. Medical care is provided under the direction of visiting doctors. We have a Doctor on call facility at all times.
Services
We accommodate both male and female residents requiring long term care over 18 years of age. The Proprietor and the Resident also agree that the Proprietor shall provide any or all of the following Services to the Resident for such further remuneration as may be agreed between the Parties:
Physiotherapy as requested
Occupational Therapy
ChiropodyDry Cleanning (nominal cost)
Hand/body massage
Therapeutic Hand Massage/Nail Care
Daily Newspapers
Hairdresser
Shop selling sweets, minerals and cards
Pharmacy daily deliveries
Speech and Language therapist
Dietician
Tissue Viability
Dentist
Dinning – Always fresh and varied
Our kitchen serves a great selection of food with variety and freshness. All our meals are prepared daily in our Kitchen. Our Chef prepares home baking daily.
Special diets such as Vegetarian, Coeliac, Renal and Diabetic are always considered. There is a lovely bright and airy dining rooms were all meals are served except breakfast which is served in bed.
If residents wish they can have their meals served in their own bed room.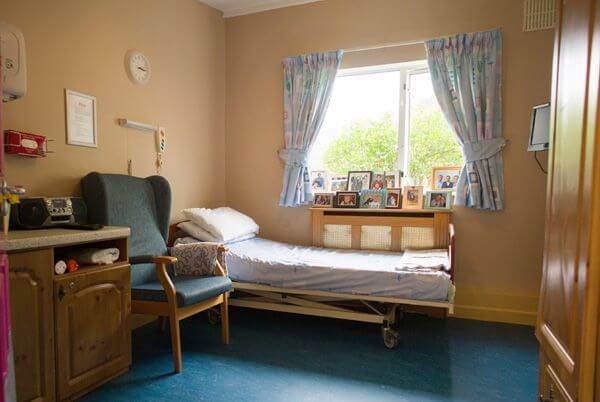 Facilities
Services and facilities/Activities offered by Shrewsbury House Nursing Home:
35 Residents
14 single and 7 double rooms.
Bed and board.
Hairdressing room with tea/coffee making facilities are available at all times for residents and family members.
Nursing and personal care appropriate to the level of care needs of the Resident.
Bedding other than specialist beds.
Laundry Service.
Basic aids and appliances necessary to assist the Resident with the activities of daily living.
Pets
We have a cat called Poppy, who is fully vaccinated and loves to be taken care of by the residents.